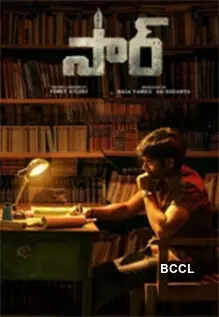 SIR Story:
Despite the politics around education in the 90s, an assistant maths teacher takes it upon himself to transform underprivileged students.
SIR Review: Stories of the common man rising to become a saviour for the society have always been a staple in cinema. Venky Atluri's Sir seems loosely inspired by Hrithik Roshan's Super 30, but the central theme of the film is powerful enough to stand tall.
Sir begins in the present, with three students going on a nostalgic trip through an old VCR cassette. The man they're reminiscing about is Bala (Dhanush), an assistant teacher who gets caught in the chaos of the privatisation of education in the 90s. He is left to prove his mettle in an abandoned government school with no support from his parents and administration. How he survives while managing to uplift underprivileged students forms the story.
While the fall and rise of a social reformer is a tried-and-tested trope, director Venky Atluri manages to tick most of the boxes and present a commercially empowering film. Sir fails to be an extraordinary film due to its larger-than-life moments, however, it tries to hold the pulse of the audience with good set-ups and pay-offs.
Dhanush is the USP of Sir, his effortless performance and screen presence pays off. The sequences in which his character comes up with innovative ideas to educate the students are enjoyable. Despite the dubbing, a few dialogues create a lasting impact when he speaks on social equality. Samyuktha plays a biology teacher and Dhanush's counterpart. She looks refreshing and plays her part decently. Ken Karunas does an impressive job, so do the actors who play other students. Samuthirakani plays a role he can pull off in his sleep. He doesn't play a typical villain and has only a few sequences that show off just how menacing he can be. The film is technically sound.
Sir is a film that has no time for nonsense, but it could've been better.