Shreya Ghoshal got her big singing break at the age of 16 when
Sanjay Leela Bhansali
spotted her on a reality show and roped her in to be the voice of
Aishwarya Rai
in 'Devdas'. Twenty years down, the ace singer is still trying to wrap her head around it. In an exclusive conversation with ETimes, Shreya took a trip down memory lane as she recalled her memories of meeting her mentor; spoke about how she deals with her low phase, what makes her stand apart and more. Excerpts…
You started your journey in the film industry with Sanjay Leela Bhansali when you became the voice of Paro in Devdas. It also fetched you a National Award for 'Bairi Piya'. Bagging such a big honour at such a tender age for your first project— what was going on in your mind at that time?

I don't think I grasped any of it. I was just going with the flow. I was both excited and nervous. I was 16 when I recorded for 'Devdas'. It was an unfamiliar territory for me, as I was surrounded by musical maestros and music industry bigwigs. I had to sing for a Sanjay Leela Bhansali movie, and that too for Aishwarya Rai. The studio used to be full of people. It was not like how it is now, where we go into the studio and there is just one person sitting at the console. I went to the old school of music production. I got to witness it and be a part of it. Every recording was like an audition. It was nerve-wracking, but at the same time, it was a master class for me. I learnt a lot in the two years that went into the making of 'Devdas'. I came out as a slightly more mature artist. I didn't understand that my journey had already begun. I thought after this, I would go back to school and finish my degree. But that didn't happen. 'Devdas' set the ball rolling for me, and I started getting one job after the other. Now, when I look back, I am surprised that I have completed 20 years in this industry. However, I still feel like the nervous little girl I was when I started. It looks like not much has changed!
How was your first impression of Sanjay Leela Bhansali? Has anything changed over the years?

He has the same passion and the same energy. I don't think he has ever had a blank moment in his life. There are times when we just want to chill and not think about anything else. I don't think this man is capable of not being creative. He is always at his peak. I have told him so many times that I want to get into his mind just to know how it works. He is able to create such intricate, detailed work in cinema, and the same amount of depth is in his music as well. It is very rare to find a person who can express art in so many different mediums. This is incredible. He is always trying to get the best out of the artists he works with. He is someone who loves with all his heart and gets angry with all his heart. And all this is for the passion he has for cinema and music. I take inspiration from him. Complacency aane se pehle life mein ek baar Bhansali sir se milna zaroori hai. Once you meet him, you will realise you have not even scratched the upper level. There is so much to life and so much yet to be done.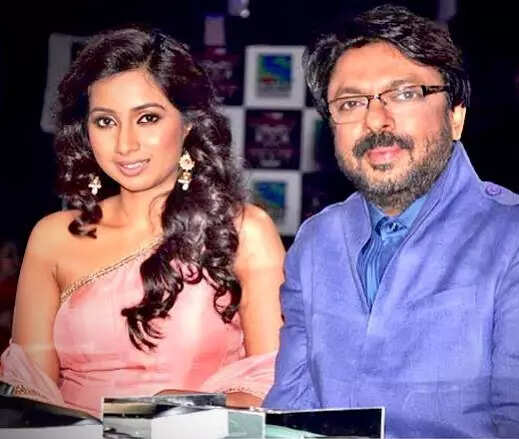 You are one singer who has always managed to bring out rich emotions through her songs. What is that one thing that makes you stand apart?

I don't consciously put forth an effort or even think in that direction. I think what has stayed constant is my love for music. It doesn't matter if I am singing for films or not. Even when I am not recording, I am sitting on my piano or with my tanpura at home. The sense of fulfilment that I get from music keeps me going. It probably shows in my work, and that's why maybe people like what I do.
Ever since your debut, you have always managed to stay relevant and at the top. Have you also gone through a low phase? How did you deal with it?

I am a very level-headed person, and I feel my background and my family are my core strengths in life. They keep me grounded and centered. Apart from my music, none of the things that I do matter to me. I genuinely love to live a simple life. I live by a simple philosophy: Be good, do good to others. Never harm anyone. It is very easy to lead a simple life and be at peace. I think that keeps me practical and relevant.
Sometimes people go on ego trips. They feel they have done so much in life that they have the power to say what's right and what's wrong. You need to listen to what people want. You must respect the audience who helped shape you into the person you are today. If you have that kind of humility and understanding of the balance, you are sorted. It keeps me going. Music is evolving, but human nature is not going to change. People are still all about good music, sur, taal, and soul. That will never go away. That, I believe, is what relevance is all about. Being human means being relevant.