There's good news for those just stepping out of college and universities this year. At least 62 percent of employers in India Inc will hire freshers in the six period of January – June 2023, according to a survey conducted by TeamLease EDtECH, a leading learning solutions provider in India.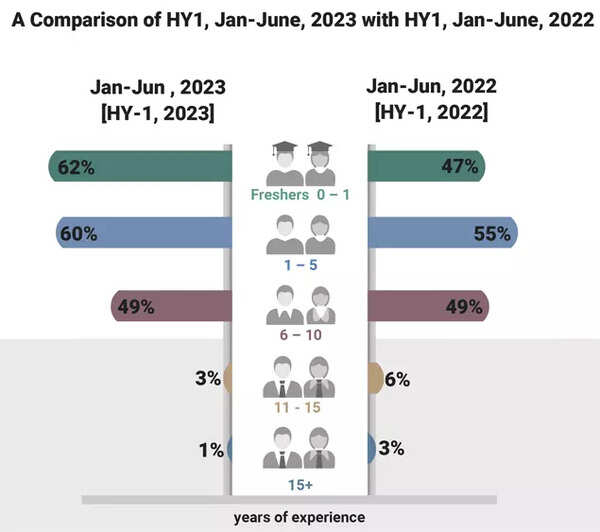 Employers in the Information Technology, Telecom and e-commerce industry expressed stronger intent than their peers in other industries.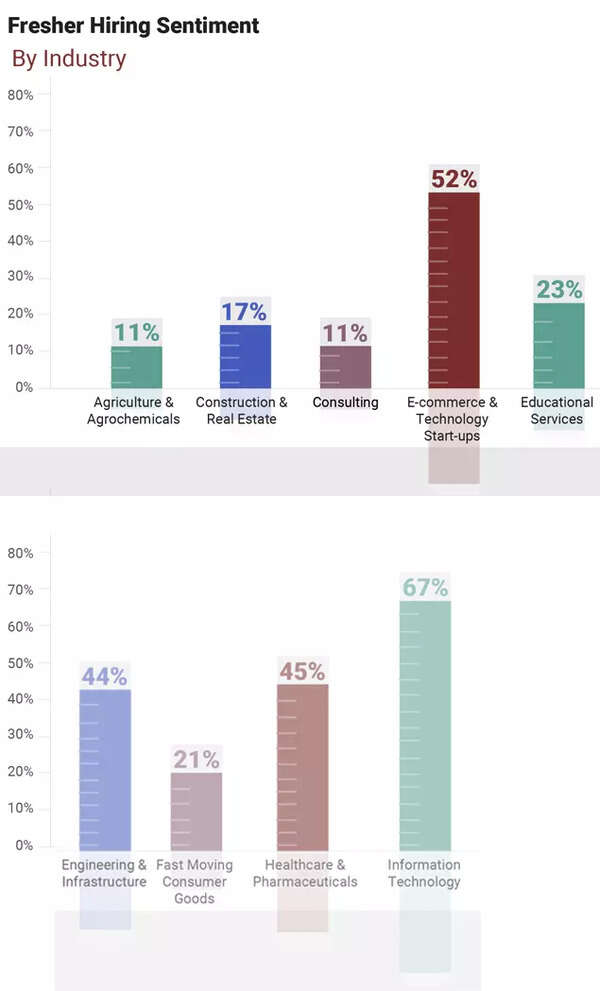 The top Industries having higher hiring outlook for freshers in current half year are: Information Technology (67%), E-commerce & Technology Start-ups (52%), Telecommunications (51%), Healthcare & Pharmaceuticals Roles (45%) and Engineering & Infrastructure (44%).
New-age job roles like cloud engineers, Blockchain experts, Cyber Security Engineers, Marketing Analysis and Bio-Medical Engineers are in high demand, revealed the survey.
Apart from domain skills, employers are keen to hire candidates who demonstrate higher levels of cognitive skills like negotiation skills, collaboration, communication skills, learnability, critical thinking and analysis.
TeamLease EdTech, in its quest for Making India Employable, has come out with the Forecast Report to track the dynamics of the job market for first-time jobseekers whose educational qualifications range from 10th/12th standard through Postgraduate Diploma and Doctoral candidates.
Indian freshers job market has also witnessed an increase by 15% in the current HY(Jan-Jun, 2023) when compared to the same period of last HY (Jan-Jun, 2022).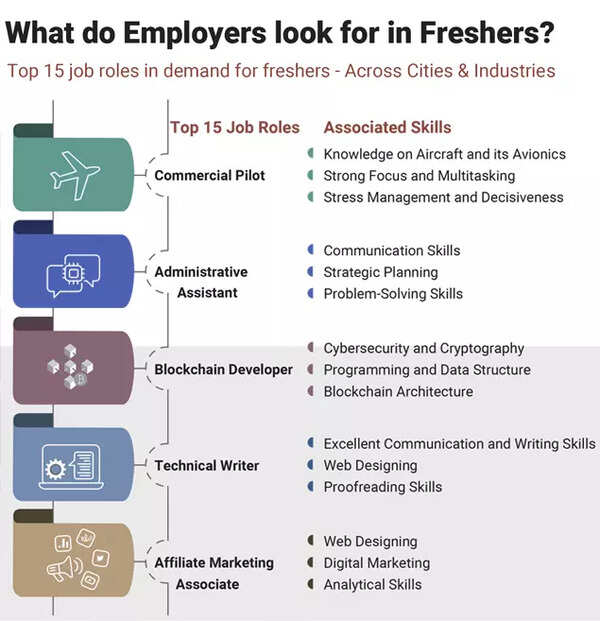 Salary expectations for the top 15 job roles
Salary expectations across the top 15 job roles will vary depending on various factors such as alma mater, city, employability, and other skills.
For example, a fresher applying for a data analyst role in Bangalore may expect anywhere between Rs 2 lakh to Rs 12 lakh as an annual compensation. The average annual salary for this role is around Rs 5 lakh per annum.
" A fresher applying for a machine learning job can expect to earn an average annual salary of Rs 6.8 lakh per annum. However, this is again conditional on several factors and cannot be guaranteed as a constant. Over the past two years, the IT domain has witnessed overinflation in salaries for certain roles and considering that a global recession is expected, employers are likely to be vary of offering over the top salaries for freshers and experienced graduates alike," said Neeti Sharma, President & Co-Founder TeamLease Edtech.
Meanwhile, hiring intent for freshers has marginally improved to 62% for the current half year (January–June, 2023) – a 3% increase over the July–December 2022 half year. Hiring Intent is a measure which represents the percentage of employers likely to hire during the six-month period that is in consideration.
The hiring intent across all categories of jobseekers in India – fresh or with experience – has risen to 68% from 61% over the same duration, implying opportunities for freshers.
Key domain skills in demand: DevOps, Corporate Finance, Artificial Intelligence and Project Management. Domain skills are skills that are specific to the technical domain within which a given job role exists. They could be a combination of functional and soft skills relevant for a given domain.
Key soft skills in demand: Negotiation and Persuasive Skills, Cognitive Flexibility, Curiosity/Continual Learning and Emotional Intelligence
In-Demand courses by Industry:
In-demand courses that freshers can undertake to increase their employability: Certification in DevOps, Supply Chain Management, Data Engineering, Business and Corporate Law.
Hiring sentiment across Industries and Cities:
(Percentages represent the proportion of employers within the respective sector/city)
The top 3 industries that intend to hire freshers during January-June, 2023
Information Technology: 67%
E-commerce & Technology Start-ups: 52%
Telecommunications: 51%
The top 3 cities that intend to hire freshers during January-June, 2023
Bangalore: 75%
Mumbai: 56%
Delhi: 47%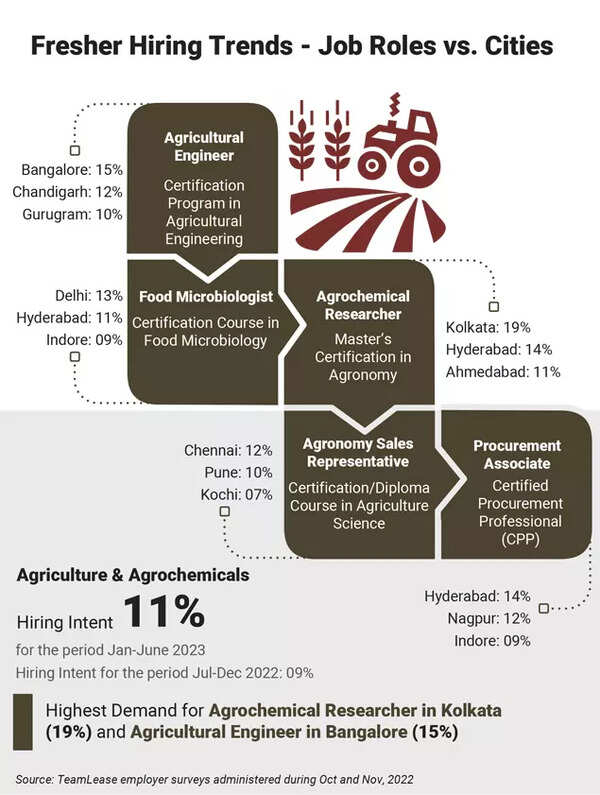 "One can gauge that the employability quotient for freshers and youth is highest in the IT, ecommerce and startup, and healthcare sectors. These sectors have witnessed an increased intent to hire over the past six months with a 8 % increase across IT and ecommerce and startup sectors and a 4% increase in the healthcare and pharmaceutical sector. Cities such as Bangalore, Mumbai, Delhi, Chennai, and Hyderabad offer the most employment opportunities and as such it stands to reason that the employability quotient is higher in these cities compared to others," said Neeti Sharma, President & Co-Founder TeamLease Edtech.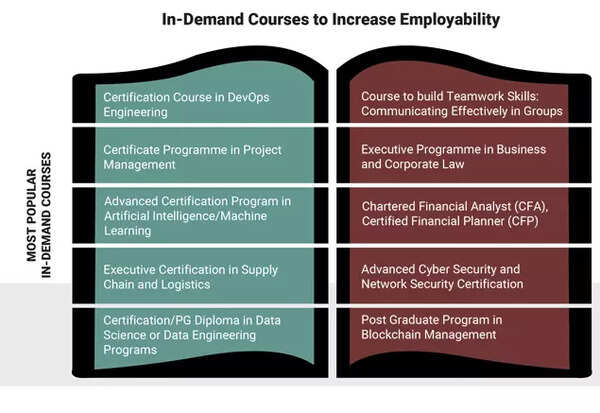 The above are the most popular in-Demand courses, aligned to the skills that the employers expect candidates to possess, that can help boost a fresh candidate's chances of landing a job during the current half year, noted the report.
Degree and certification in DevOps, Supply Chain Management, Data Engineering, Business and Corporate Law are a few in-demand courses solicited by prospective employers.
"As aspiring graduates and freshers, the key here is to identify the industries that demonstrate an optimistic view and the job skills that would have good demand in the future. Now is the time for job seekers to acquaint themselves with current market trends and invest in the right skills and courses to improve their chances of landing their first jobs" said Sharma.